"Oops! We did it again – Beep! edition"
For those not familiar with the industry, it is not easy to imagine the importance of dubbing and even more so of localization, of which dubbing is only one moment. It is, in fact, the crucial and final phase without which a shot – long or short, animated or not – cannot be distributed in a country that speaks a language different from the original. Upstream, it also involves translation, adaptation, and synchronization of new dialogues with the actor's lip movements, in addition to the actual dubbing.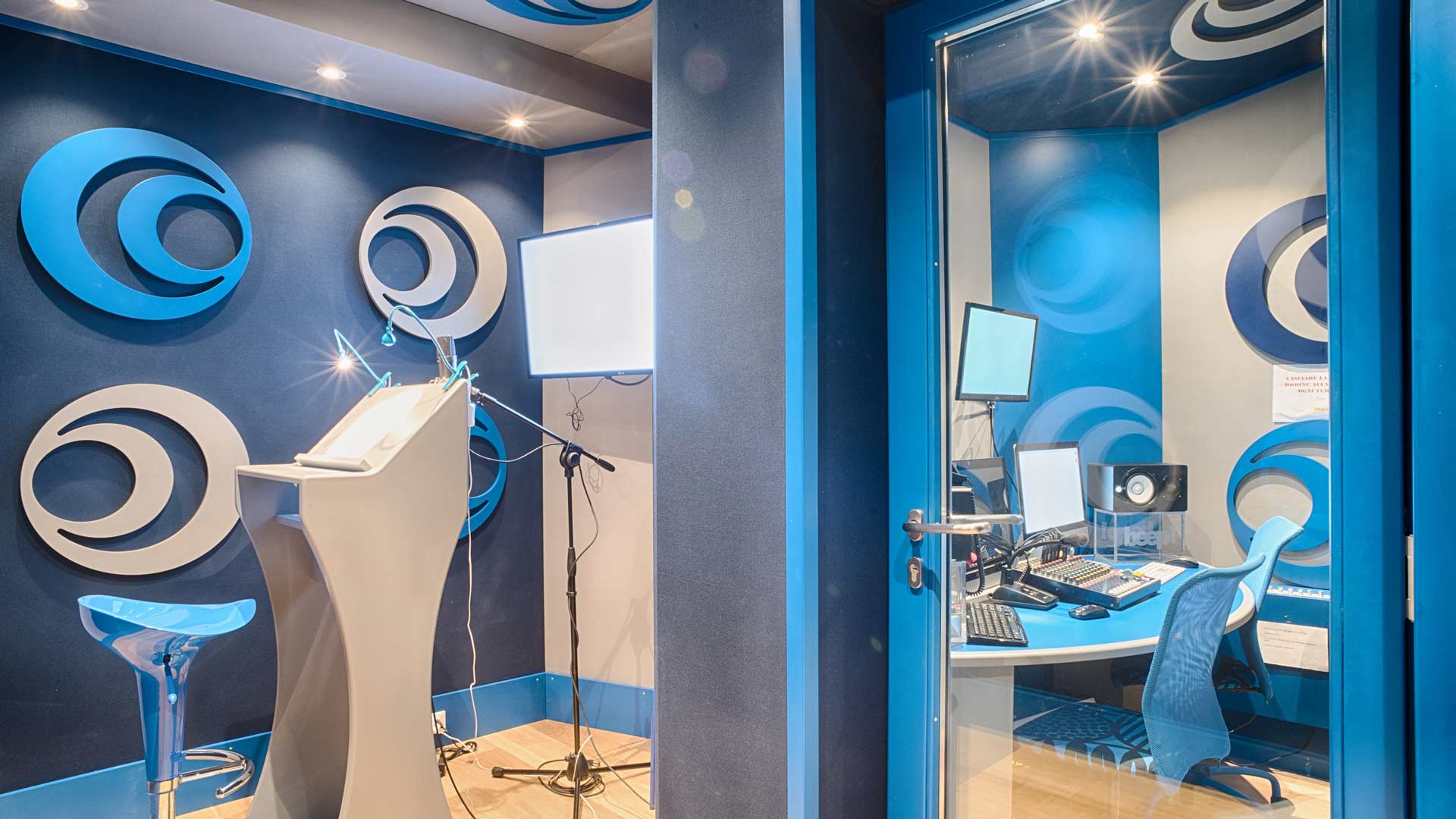 Even those who are not experts in the field, know about the reputation that Italian dubbing has earned worldwide. It's a tradition that originated together with sound cinema and boasts a tradition of excellence.
Among the leading players in localization and dubbing in Italy, there is Beep! Studios, a company that has been able to navigate as a pioneer in an industry that is constantly changing due to new technologies and the new demands that come with them.
Leading the operations today are Andrea Barberi and Alexandra Pepe, the latter being the daughter of the founder, Fabio Pepe, a great veteran of Italian dubbing as well as an esteemed voice actor – and in Beep! Studios he is CEO and artistic director as well.
Beep! Studios was founded in 2005, but we met them in 2010, when we were taking our first steps, and since then we have not parted ways, mutually accompanying each other through increasingly innovative and intriguing projects over the years.
Over the years, we have grown together in a sense. And the cornerstone on which this relationship has been built over time is the Gorilla room. Because not only was it the first, but it was also a paradigmatic project of our collaboration: a pinch of chance, a not-so-easy problem to solve, a strong inclination towards the adoption of cutting-edge technology, and above all, a perfect dynamic established between client and supplier.
"The Gorilla room, which is probably the smallest mixing room in the world," says Andrea Barberi, "encapsulates a story that describes exactly the spirit we were looking for in a supplier to achieve what we had in mind.
We didn't have much space: the room is a cube measuring 2 meters on each side, which is a real nightmare for acoustics. We knew Francesca from her previous life, we knew about her new adventure in acoustics, and we said to each other, "What are we doing in this hole?" Francesca worked with her acoustician and found the solution: instead of directing the listening point towards a wall, we directed it towards a corner, transforming the room surface from a tetragonal figure into a hexagonal one.
Moreover, the room was so small that it had to be extremely well-designed aesthetically to avoid being insignificant. It was called Gorilla because it previously housed an ingest system that was named after it. So, we turned it into a jungle of green and bamboo.
From the cube emerged a room that was also mentioned by the prestigious Resolution magazine and caught the attention of Genelec's CEO, Siamäk Naghian, who came to see it and was pleased that it was the first 5.1 mix to meet ITU standards thanks to Genelec's "GLM" – the calibration system for Genelec listening, which is now standard but was in its infancy at the time."
After the Gorilla room, others followed. Like the Rusty Garage TV mix room, the Dubbing 70's and the Dubbing Lego room. Spaces united by the same approach based on color, design, and ideas to make even very small environments beautiful as well as acoustically perfect. The meaning of beauty and color for rooms where, traditionally, you work with very dim or even no lighting would seem like a total contradiction.
But, as Alexandra Pepe explains, "The branding and diversification of the rooms compared to typical standards works at the level of impact with actors. The dark room was and still is a standard but, regardless of the work it is destined for, we imagine a place where actors, operators and technicians can feel good and relax a little. We want to break away from the ranks, not be monotonous. Some, at times, entering rooms with lights on, remain perplexed because they do not see the traditional black walls, but then the lights go off and it becomes dark even if the walls are orange or have Lego tiles artfully embedded. Not only that. We want our spaces to also have internal coherence, for the various rooms to harmonize with the overall structure, to be integrated."
This philosophy, which involves perfectly integrated recording studios in the aesthetics of the building that houses them, is another excellent example of the virtuous cycle that was triggered during the collaboration between Proaudio and Beep! Studios. After creating their own studios, Fox International Channels in the UK, Germany, and Italy sought them out to "dress" their own spaces. Then came The Walt Disney Company, EMEA. And then Netflix.
At the same time, Beep! Studios continued to grow. In 2019, they made a quantum leap by investing in the massive structure acquired in the historic center of Rome, in Prati, making it the most technologically advanced facility in Europe for all localization activities. Here, Proaudio created the French Mix HE Room, a multifunctional Atmos 9.1.4 mixing room – ready for Atmos Music – which allows for "French-style" dubbing.
Thanks to this acquisition, Beep! Studios completed its offer, along with its historic location in Monteverde, with a total of 1300 square meters of surface area between technical and administrative offices, with a total of 8 recording studios and 5 mixing rooms.
"Oggi le multinazionali richiedono ai fornitori come condizione imprescindibile certificazioni per le facilities che devono rispondere a requisiti molto stringenti sia dal punto di vista delle tecnologie disponibili, che in tema di sicurezza di ambienti e persone e dei dati. Tutti requisiti che necessitano di investimenti ingenti, che per farli, ci si deve credere" – prosegue Andrea Barberi.
"Today, multinational companies require as an essential condition certifications for facilities that must meet very stringent requirements both in terms of available technologies, as well as safety for environments, people and data. All requirements that require substantial investments, which must be believed in to make them," continues Andrea Barberi.
It is not surprising, therefore, that Beep! Studios' facilities were the first in Italy to be awarded the Trusted Partner Network certification – the security protocol drawn up by the Motion Picture Association in 2018 – passing the meticulous checks of TPN assessors and accrediting itself as a supplier to major players. This is the result of a meritocratic approach that recognizes the importance of investing in quality, innovation and safety. And this is the main reason why we are particularly pleased to be their growth partners, with problem-solving as the driving force to find ideas and solutions different from the usual and become – both us and them – more competent, with the idea of building highly integrated environments at the base of everything."
But it's not just that. Andrea and Alexandra are people with a very particular human sensitivity, as well as professional. An anecdote told by Andrea can easily explain what we mean.
"Years ago, we received a request to attend a dubbing session from Federico, a quadriplegic guy and a great dubbing enthusiast. We decided that we had to do it at all costs, even though we were not equipped from the point of view of architectural barriers. So we somehow managed to organize his visit and we soon became dear friends. His presence sensitized us to the issues of diversity and inclusion.
Much later after Federico's first visit, Mattel, for whom we have been localizing Thomas the Tank Engine for years, addressed the theme of inclusivity and diversity in the thirteenth season of the series we dubbed, introducing Bruno, an autistic train, among the protagonists. The real challenge was to have him dubbed by an autistic guy. We relied on the help of ANGSA LAZIO and had the pleasure of starting our collaboration with Filippo Manfredi, who interpreted this character in an excellent way. It was a fantastic experience, so much so that Mattel asked us to record a small special from which a project was born, which was also broadcast on TV."
With these travel companions, it is a pleasure to grow, and fortunately, the journey is not over yet.
"For the Proaudio group, and for Construction in particular," Francesca concludes, "the first projects entrusted by the 'Beep guys' were a driving force that allowed us to give concrete form to our first intention: to build acoustic spaces that did not bear the signature of this or that designer. We don't want the first impression upon entering the room to be 'so-and-so made it,' but we want to give the spaces the soul, brand, and vision of those who will live in them every day. And since the Beep guys never stand still, we're already working on a new concept for them. This time, it's a project with a nascent technological solution and a challenging space, to say the least. And personally, I can't wait…"